Genteq Variable Speed Motors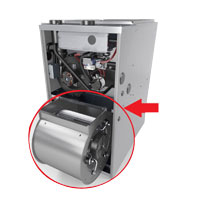 Genteq variable speed fan motors in your furnace work with your air-conditioning system to remove 300% more humidity - making your home much more comfortable during the summer.
Genteq motors change speeds automatically to regulate the airflow when heating or cooling. This motor has a 'brain' and 'thinks'!
By automatically changing airflow patterns, your indoor environment feels different and more comfortable than a standard unit.
This variable speed motor offers significant energy savings and is exceptionally quiet. You may never hear your system operate again!
These motors can also operate non-stop for only a few cents a day, allowing air cleaning devices like the Honeywell Media Air Filter or the RGF Guardian Air to clean air 24/7 for the ultimate in air cleaning.